Cubicle Tear Down & Installation
Whether you are moving your office to a new location, expanding your space, or rearranging your workstation layout, let Southwest Modular of Las Vegas make the process quick and painless with professional cubicle tear-down and installation services. From plan to reality, we have you covered every step of the way.
Get It Done Right The First Time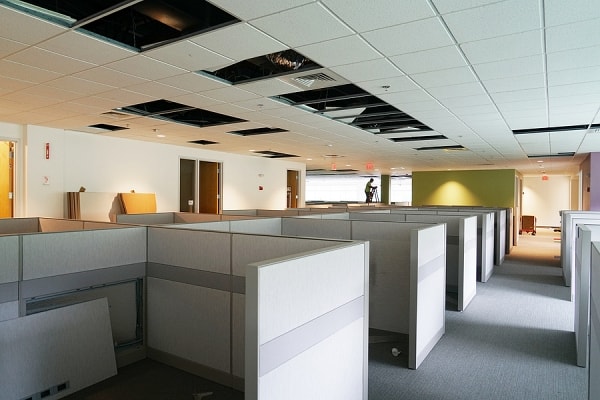 Using a professional cubicle installation service means your tear-down and set up will be done correctly from start to finish. Cubicles, as well as other office furniture and equipment, are a big investment for any business. It is crucial to safeguard that investment by leaving office furniture moving and set up to professional office equipment installers.
Workplace Design Assistance
Protect Cubicles & Other Furniture From Damage
Experience With Commercial Moves
Cubicle Rebuild Expertise
Equipped For All Types Of Office Furniture Installation
Stress-Free Cubicle Moves
The last thing your business needs is to waste valuable production time to moving or rearranging office equipment and furniture. Our commercial moving company understands the stress of corporate moves. We take care of every step, from creating a detailed design and installation plan to cubicle breakdown, moving furniture and electrical equipment, cleaning up, and setting everything back up again.
Our turnkey solutions get your company up and running in no time.
We Know Cubicles
Office furniture may look pretty straightforward, but cubicle removal and setup are more complicated than they appear. Components such as rods and springs, connector rails, latches, levers, and more can make putting together a cubicle, a major undertaking. Our experienced staff has this process down to a science.
Supporting Growing Businesses
Every company wants to see their business grow. Southwest Modular carries both new and used cubicles to outfit your employees. We can minimize your growing pains with office furniture that fits into your current office design. Then, we can deliver, place, and set up your order, quickly and efficiently.
Las Vegas Office Cubicle Services
Take the stress out of your office move or expansion. At Southwest Modular, we are experts in Las Vegas office design, business furniture removal, and cubicle breakdown and setup. Call us today to place your order or set up an appointment.
Need Brand New Office Furniture?
Browse our inventory of brand new office collections.